The After 3 program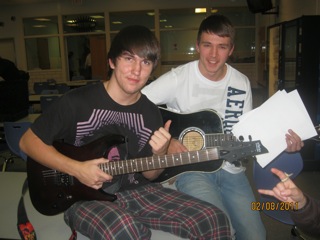 The After 3 program is part of a countywide consortium that provides after school programming for Bedford County Students grades K to 12 under grants through the Pennsylvania Department of Education and through cooperative agreements with the county's five school districts: Bedford Area, Chestnut Ridge, Everett Area, Northern Bedford, Tussey Mountain and the HOPE for Hyndman Charter School. The Bedford County 21st Century Community Learning Centers Consortium is the only one of its type in Pennsylvania to provide afterschool programming countywide among independent school districts.
After 3 is the secondary program for students grades 6 to 12 at six sites – Bedford High School, Hyndman High School, Chestnut Ridge High School, Everett Area High School, Northern Bedford County High School and Tussey Mountain High School.
The consortium is directed by countywide staff, including Project Directors Lyn Skillington and Rick Heath and Assistant Project Director Heather Sipes. A steering committee made up of administrators from the county's five school districts along with representatives from community-based organizations meets regularly to oversee the projects.
For the 2018-19 school year, the consortium will enroll more than 900 Bedford County students K-12; will provide employment for more than 60 full and part-time staff members and provide more than 400 hours of after school programming at each of site throughout Bedford County.
Major activities for the secondary program include:


Career and college readiness, including R Rules curriculum
Entrepreneurship and personal finance
Technology: Coding and 3D Modeling
Content creation, with emphasis on video production and career exploration
STEM, with emphasis on career paths
Nutrition
Art, with emphasis on supporting 3D design
Service Learning
Teen Assistants
Parent workshops with focus on career exploration and development
Credit recovery – 6-week programs at Tussey Mountain High School
6-week summer enrichment camp in June and July
Social-emotional learning through LifeSkills Training workshops
Community organizations: 4-H for personal finance/entrepreneurship, Bedford Arts Cooperative for coding and 3D modeling, Unified Family Services Systems for professional development
For more information about the program, e-mail, call the project office (814) 624-4810 or click on the link above to read more about After 3 sites and their activities.
The After 3 program is funded through a grant from the Pennsylvania Department of Education as part of the Federal 21st Century Community Learning Centers program and is offered free of charge to all students in grades 6-12 in Bedford County.