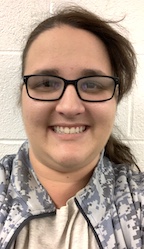 Kayla Browell has been the Chestnut Ridge After 3 site coordinator for the past two years. She also is in her third year teaching in the district's alternative education program through Ignite. She is certified in elementary and special education with a degree from Indiana University of Pennsylvania.
Kayla and her husband Matthew have two dogs and a cat.
Kayla enjoys watching sports – Steelers, Pirates and Penguin and going to Penn State games. In addition, she enjoys hunting and fishing.
In the After 3 program Kayla says she enjoys interacting with students and getting to know them better than she can in a regular classroom. "The program provides a safe place for students to come to get homework and other academic help, make friends and do a variety of activities."
Email Kayla or call the After 3 office, 839-4195 x3260
Staff members at Chestnut Ridge include:
Aides: Amanda Fleegle- Amanda has been in our program for 8 years. She is also an Aide in the Ignite Alternative Ed. classroom.
Tutors - Kevin Rizzo: Kevin has worked in the program for 6 years. He teaches music at the elementary and middle schools.
Tiffani Corle: Tiffani has worked for the program for 5 years after having been a coordinator for 3 years. She teaches 4th grade.
Lynnette Beegle: Lynnette has worked in the program for 4 years. She teaches Science at the high school.
Nadine Glass: This is Nadine's first year working with the program. She is a learning support teacher at the high school.
Jennifer Yonker- This is Jenn's first year working with the program. She teachers 2nd grade.